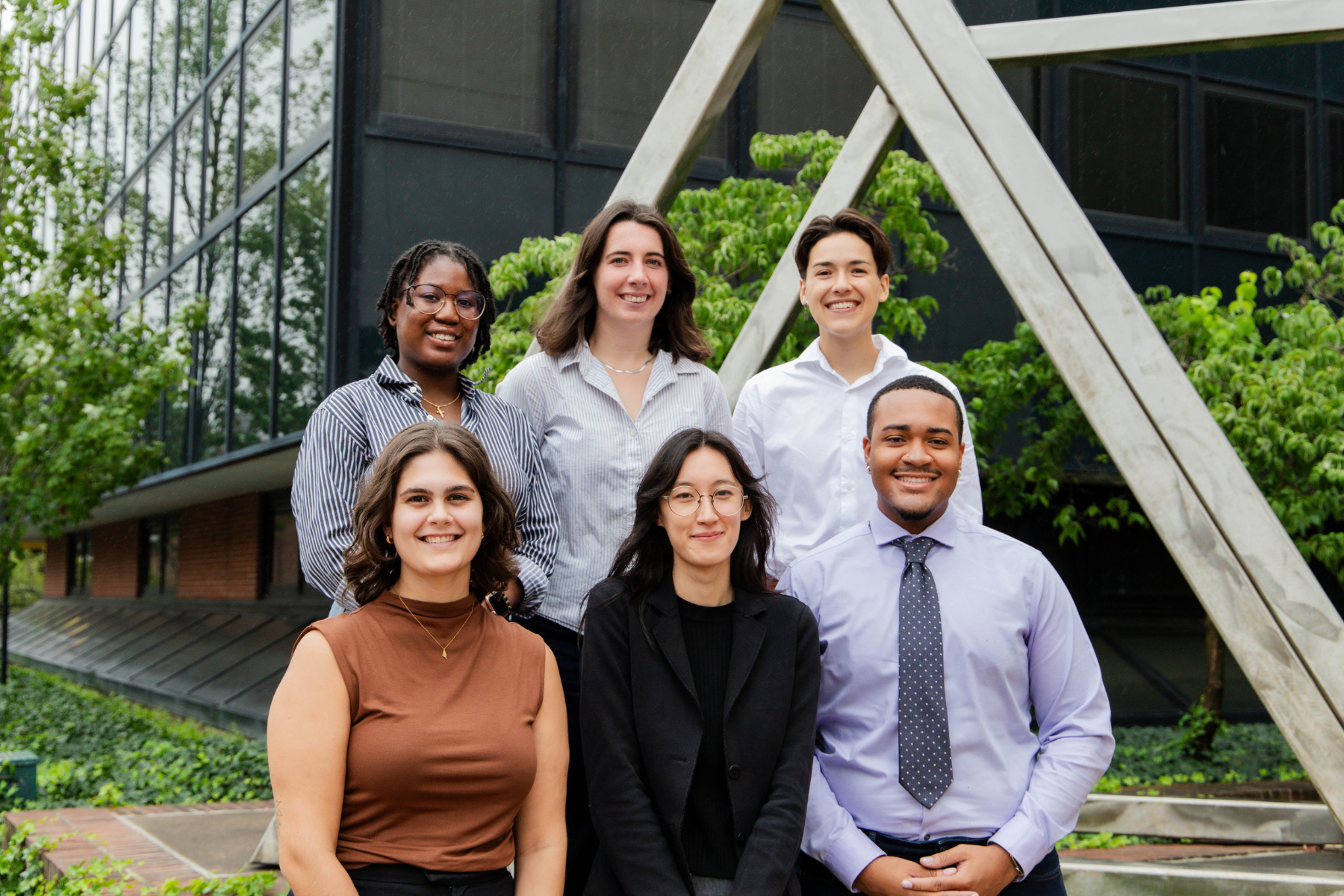 2023 Junior Professional Research cohort begins its work
Contact: Jon Meerdink ([email protected])
ANN ARBOR — The inaugural Junior Professional Researcher (JPR) program at the Institute for Social Research is off and running. The first cohort of researchers began their research on August 14, gaining key skills and first-hand exposure to the best in social science research at ISR.
The JPR program is designed to give recent college graduates interested in a career in social science research crucial experience in their field, allowing them to see what it's like to work in a dynamic, multidisciplinary research environment.
Program participants will develop their research skills through working with data and collaborating with senior researchers and their project teams.
This year's cohort includes the following six researchers:
Chiara Affatigato
Chiara will work with the Stone Center for Inequality Dynamics. Joe LaBriola, Sun Kyoung Lee, and Pablo Mitnik will advise her work.
Chiara graduated from Macalester College in 2023 with a degree in economics and educational studies. She has substantial empirical research experience, including a project employing school-level and district-level data to analyze the impact of educational reforms on Chicago public high school students. In addition to her research, building collaborative relationships will be a core focus of her time in the JPR program.
"I'm excited to be part of a collaborative environment where I can learn from successful researchers who are passionate about their work," she said. "I hope by the end of this experience I have grown professionally, academically, and personally."
Birch Chemberlin
Birch will work with the Social Environment and Health program. Philippa Clarke, Grace Noppert, and Kate Duchowny will advise his work.
Birch graduated from Harvard University in 2023 with a degree in social studies. During his time at Harvard, they gained valuable interdisciplinary research experience, including grant writing and archival research, via their senior thesis. The thesis included an intellectual history of political thought at his First Nation which unpacked history's implications on politics and foreign policy today.
"As a First Nations researcher with a background in Indigenous studies, I hope the work I do and the skills I develop here at ISR will positively impact the understanding of issues like health, poverty, and water access that are relevant to many Indigenous communities in North America," he said. "I am excited to get involved in diverse, community-driven, and empowering research that addresses inequality, environment, and well-being, and commits to Indigenous sovereignty over data, governance, and territory."
Boluwatife Dogari (Bolu)
Boluwatife Dogari will spend her time working with HomeLab in the BioSocial Method Collaborative. Alicia Carmichael and Rich Gonzalez will advise her work.
Boluwatife graduated from Shepherd University in 2023 with a degree in psychology and a minor in sociology. She began her college career at Montgomery College before transferring to Shepherd University, where she was a part of Shepherd's honor program and received a multicultural leadership scholarship.
"I am extremely grateful to be part of this amazing group. Everyone here is friendly and welcoming and it has been a joy to be around them," she said. "I am excited to experience new things and expand my horizons during my time as a Junior Professional Researcher."
Angelica Eagle
Angelica will work with the Aging and Biopsychosocial Innovations program. Kira Birditt and Courtney Polenick will advise her work.
Angelica is a recent graduate from the University of Michigan with a bachelor's degree in psychology. Her undergraduate coursework along with work and internship experiences enabled Angelica to build a strong foundation of understanding on mental health conditions and
treatment options. She has worked in a number of direct-care settings, which gave her a first-hand look at different aspects of health care systems, including the hurdles many face in obtaining government and community services.
"As someone who was unsure of what to do after graduating, participating in the JPR program will help me to better understand what my goals actually are and the steps I would need to take to get there," she said of the opportunity to join the program. "I look forward to working with my mentors and other members of the ISR to learn from their experiences within the social sciences and beyond and to share ideas about current and future projects, which was a big reason I wanted to join the program."
Uma Hornish
Uma will work with the DNA Methylation, Genetics, and Modifiable Risk Factors of Dementia project in the Population, Neurodevelopment and Genetics program. Erin Ware and Cesar Tejera-Higgins will advise her work.
Uma graduated from the University of Michigan in 2023 with a degree in biology with a minor in quantitative methods in the social sciences. Although she started her college career with a focus on biology, she has explored social science research in her elective coursework and extracurricular activities. She is enthusiastic about learning to approach questions about genetics from a social science/population perspective.
"I'm really excited for the unique opportunity that the JPR program provides," she said. "I am particularly excited about the interdisciplinary nature of the research that I will be a part of. It feels like this research will be a perfect combination of many things I have enjoyed studying in the past so I am really looking forward to the opportunity to work on something that combines so many of my interests. As someone who graduated from U of M, I heard a lot about ISR, so it is really cool to be able to work here!"
Quentin Jenkins Jr.
Quentin will work with the COVID-19 in the Future of Families and Child Wellbeing project in the Population, Neurodevelopment and Genetics program. Colter Mitchell, Helen Meier, and Chris Monk will advise his work.
Quentin graduated from Pitzer College in 2023 with a degree in sociology and Africana studies. He is a first-generation college graduate, and has gained research experience through two summer programs — one at Harvard University and the other at Northwestern University. He is also a Mellon Mays Research Fellow, for which he is completing a thesis on Black LGBTQ Youth and their experience with school discipline and punishment.
"I am excited to be a member of the inaugural Junior Professional Research Program cohort because I will gain hands-on research experience and will be able to collaborate with other scholars across disciplines to enhance the field of research. During my time here at Michigan I hope to gain more knowledge on the research process while networking with faculty and graduate students to learn more about a career in research as I intend to pursue a PhD upon completion of the JPR program!"